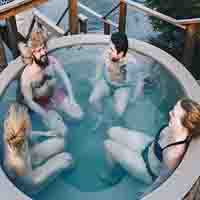 4 Person Hot Tubs
---
A 4 person hot tub is a large hot tub that typically offers four to five seats, and can easily seat a family of four.
How big are 4 person hot tubs?
While hot tubs can vary greatly in shape, the dimensions of many four person round hot tubs ranges from 78 to 84 inches in diameter while four person square or rectangular hot tubs have diameters of up to 110 inches.
How much does a 4 person hot tub cost?
The price of a four person hot tub ranges from $2,500 up to over $15,000.