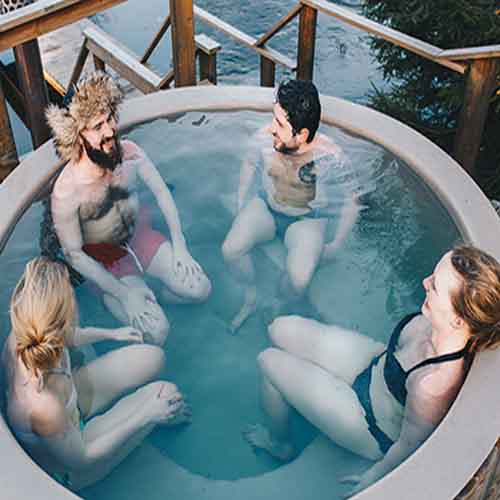 Hot Tubs
---
Thinking about getting a hot tub for your home? Hot tubs and spas for home use have become very affordable for the average homeowner, especially if you buy them online.
Having your very own hot tub at home can improve your life in so many ways!
A hot tub soothes any back and muscles aches, relaxes your mind and body, relieves tension and can be enjoyed by yourself, with your partner or familly and friends.
Thanks to our reviews and handy guides you can now easily decide which hot tub best suits your needs!
Subcategories
Common Questions about Hot Tubs
What are hot tubs exactly?
Hot tubs are large water-filled tubs or small pools used for hydrotherapy, relaxation or pleasure. A hot tub can sometimes have powerful jets for massage purposes. Hot tubs are also known as spas, and the most famous brand is Jacuzzi.
The water in a hot tub is not changed after each use, but is kept in a sanitary condition using methods similar to those used for swimming pool sanitation.
Most hot tubs accomodate more than one person at a time, and are designed for two up to twelve persons at at time. The majority of hot tubs are placed outdoors, although some hot tubs can also be installed indoors.
Is a hot tub considered a pool?
The main difference between a hot tub and a pool lies in their respective use - a hot tub is mainly used for soaking and relaxing while a pool is used for swimming and diving. Another difference is that a pool generally can hold much more gallons of water than a hot tub.
Is a spa a hot tub?
While the terms spa and hot tub are often used as synonyms, there is actually a small difference. A spa is a hot tub that is attached to a pool, using the same plumbing and mechanical system as this pool.
Do hot tubs have to be hot?
No, you don't have to heat your hot tub to enjoy it. You can set hot tub heater to go up to a maximum temperature of 140°.
So, the best temperature for a hot tub is whatever temperature you feel most comfortable in. Some like it hot, some like it cold!