The Best 2 Person Hot Tubs
---
Researching the best 2 person hot tubs can be quite tiresome, but being informed is key to making a great purchase.
What is the best 2 person hot tub for sale? We have done this research for you, and compiled a handy list of the best two person hot tubs, based on our own experiences and actual reviews by real customers.
---
---
The best 2 person inflatable hot tubs

---
2 person oval inflatable hot tub
vinyl
75″x47″x26″
145 gallons
locking cover & cover lift
130 bubble jets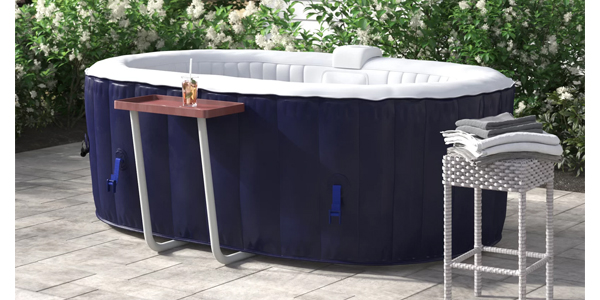 Check it on Amazon
---
Overview
The Aleko 130-Jet Inflatable Hot Tub Spa is a budget-priced small hot tub for up to 2 persons. It comes out of the box with many surprising features normally only found in more expensive models.
A whopping 130 bubble jets provide you with a relaxing, soothing hydrotherapy massage. Although these jets are not so powerful as in higher-priced hot tubs, they still provide a very soothing massage. The spa floor is cushioned and padded for comfortable seating.
A matching, fitted polyurethane cover is included to keep the water warm when the hot tub is not in use. You can simply snap this cover in place with the buckles.
The hot tub is available in the finish colors black, black/white, dark blue and brown and a product warranty of 3 months is provided.
Features
a 1500 watt (110-120 volt) power pack
a 900-watt heater
a 600-watt bubbler
a 12 Volt AC filter pump (capacity of 420 gallons)
a drink tray
a fitted cover
an inflation hose
a filter cartridge and filter cartridge cover
a ground cloth, a rubber plug and finally a repair kit
Installation
Installing the hot tub is child's play – it can be inflated and deflated within minutes with no additional tools required. You just have to plug the air hose into the air valve and adjust the flow of air using the digital control panel.
Customers' opinions
Most customers think of this hot tub as a great deal for the money. They all love the quality of the tub and the many extra features included.
This hot tub has a perfect size (roomy yet intimate), is efficient and comfortable. Many customers praise it saying that it's everything they hoped it would be, that the whole family truly loves it.
Pro versus con
Pro
easy assembly
easy to inflate
quality design
130 bubble jets
2 cupholders
Con
no seating in play spa
not recommended for indoor use
---
The best 2 person plug and play hot tubs
---
2 people plug & play hot tub
acrylic
91″ L x 42″ W x 29″ D
LED light
locking cover
ozonator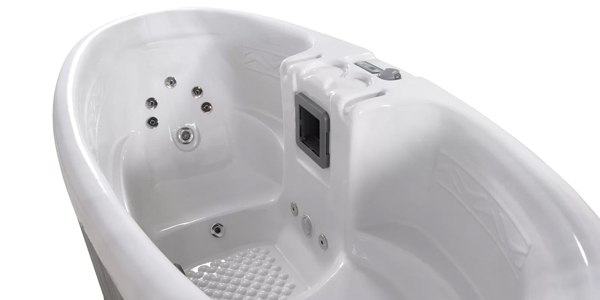 Check it on Amazon
---
Features
The QCA Cordoba Spa is a plug and play spa for 2 people designed by the renowned manufacturer QCA. If you're looking for small affordable hot tubs this spa is right up your alley!
It features a 1.5 HP Pump, 1 KW Heater and a heat recovery system. 16 stainless steel jets provide a fantastic relaxing experience. The heat up time upon first use is 24 hours, the temperature increases about 2 to 3° per hour, and the maximum temperature is set at 104°.
Also included is an insulated, lockable hard cover recommendeded for use outdoor or in colder climates.
The standard warranty covers one year on shell, plumbing, pumps and equipment.
Installation
The spa can be easily plugged into any 120 Volts/15 Amps wall outlet with the built in GFCI protected cord.
The plug and play installation is described as a breeze. The hot tub can be easily moved by two people – the spa can also easily be relocated later on if you should ever want to.
What customers think
Almost every customer is very pleased with this spa and recommends it saying this hot tub is worth every penny. They also compliment it on a very solid, sturdy construction and overall beauty.
One customer said "Just fill the spa with water, plug it in, add chemicals, and 12 hours later you will enjoy the hot water and soothing (and powerful) jets."
What most customers see as the most important qualities of the Cordoba 2-person spa are the looks and quality of the hot tub, easy setup and maintenance, the quick heat up time, the ease of setting temp and jet / air pressure and the powerful 16-jets.
Pro versus con
Pro
great value for the money
sturdy construction, beautiful to look at
totally plug & play, very easy setup
quick heat-up time
16 powerful jets for you back and feet
color-cycling LEDs
very nice cover included
Con
no drain, you have to have the water out
access panels could be better designed
---
American Spas AM-628 2-Person 28-Jet Triangle Spa
Best 2 person triangle hot tub
91″ L x 42″ W x 29″ D
acrylic
LED light
locking cover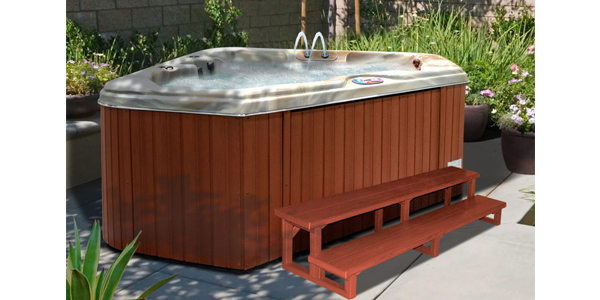 Check it on Amazon
---
Features
The American Spas AM-628 2-Person 28-Jet spa is an outstanding lower budget hot tub that encompasses higher end features.
This breathtaking spa has been designed to fit perfectly in the corner of your patio and customized to fit your unique backyard landscape. The triangular shape makes it an ideal corner outdoor hot tub.
With the decorative and protective trim lock located between the spa shell and cabinet panels, this spa feels great, looks wonderful and is the perfect compliment to your home's aesthetic.
This intimate triangle spa is ideal for couples and empty nesters seeking a relaxing way to spend quality time together.
Jetting and hydrotherapy
The spa features 28 Red Star Fire jets crafted to maximize the performance of the spa and carefully placed along the lines of the body to deliver the highest quality hydrotherapy and relaxation experience.
Individual On/Off Flow Control provides precise pressure flow for the perfect massage and directional controls target specific stress points.
Pro versus con
Pro
28 fully adjustable jets
heats nicely
cool lighting
Con
thin isolation
tub not fully drainable
---
Best 2 person outdoor hot tub
2'6″H x 3'4″W x 7'L
acrylic
LED mood lighting
insulated and locking cover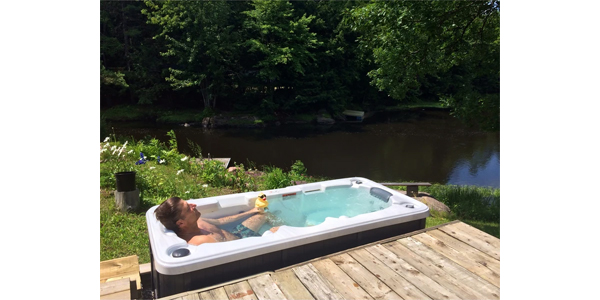 Check it on Amazon
---
Features
This beautiful spa has everything you could ever want in a hot tub, except nice company of course.
perimeter multi-coloured LED mood lighting
an upgraded audio entertainment system
a cascading waterfall
a built-in aromatherapy canister
16 powerful, adjustable directional and massage hydrotherapy jets
an insulated and locking cover
The 16 powerful, stainless steel hydrotherapy jets are entirely adjustable. You can easily set the mood through the colourful LED lights and the fantastic on-board sound system.
Our verdict
The Yukon hot tub is the best 2 person outdoor hot tub currently available on the market.
From the stunning design to the many awesome features and the great customer service, it guarantees many years of heavenly joy.
Pro versus con
Pro
beautiful, high-quality spa
lots of features
very energy-efficient
easy setup and maintenance
---
2 people plug and play hot tub
80" x 68" x 31"
Polyethylene
locking cover
14 stainless steel jets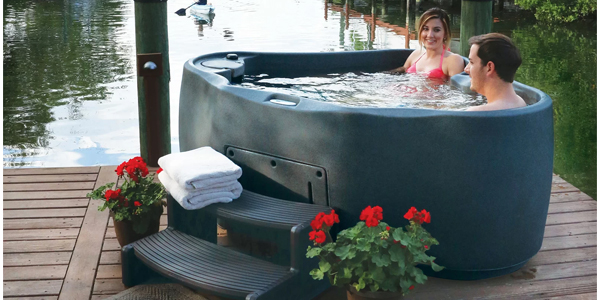 Check it on Amazon
---
Features
The AquaRest Spas AR-300 is a plug-and-play spa designed to accomodate 2 people. The spa is energy-efficient thanks to full foam insulation and an ASTM certified locking safety cover is included.
It's a full plug & play spa, which means all you have to do is plug it into any standard 120V/15 amp wall socket to get it working. The hot tubs heats to 102° within 24 hours.
It's a full plug & play spa, which means all you have to do is plug it into any standard 120V/15 amp wall socket to get it working. The hot tubs heats to 102° within 24 hours.
The AquaRest AR-300 Spa is equiped with 14 Stainless Steel hydrotherapy jets with dual side air controls so you can fully adjust them to your own liking.
You can also create your own ambience thanks to the multi-color LED back lit cascading waterfall with 9 colorful light settings. Therapeutic lumbar arch support is one of the many great features of this spa that helps you relax your muscles and alleviate back problems.
The Aquarest AR-300 spa is available in finish colors Brownstone, Greystone and Cobblestone.
The warranty covers 5 years on the shell, 1 year on plumbing & equipment, 1 year on the cover and 90 days on labor.
What customers think
The AquaRest Select 300 Spa is considered by most customers to be a great value spa that is easy to install in a smaller area. They say that it looks great, and works great.
Customers also remarked that it has comfortable seating, that two people can easily sit and relax in the tub without feeling cramped.
As an added benefit this spa is specifically designed to be very energy efficient. Many customers noted that they only saw a small or even no increase in their monthly energy bill!
A minor issue sometimes mentioned is that the waterfall can be quite noisy. The waterfall feature can be turned off however. Some also find the access panel difficult to get on and off.
Most of the customer reviews mention that they absolutely like the spa, and would recommend it to their friends.
Pro versus con
Pro
very energy efficient
perfect for smaller area
ergonomical design for alleviating muscle and back problems
2 cup holders
full digital control
easy filtration system
customizable LED lighting
Con
waterfall can be noisy
access panel difficult to remove
insulation not thick
---
American Spas 2 person Hot Tub AM-420B
2 people oval hot tub
acrylic
90″x48″x33″
LED handrail, underwater lighting, stereo and subwoofer
locking cover
waterfall
ozonator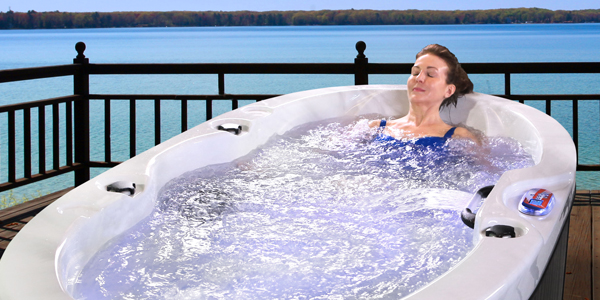 Check it on Amazon
---
Features
The HydroClear ozonator drastically diminishes bacterial growth while reducing the need for cleaning chemicals so you can enjoy your spa and waste less time cleaning it.
5.5kW heavy duty titanium heater runs whisper-quiet and quickly heats at the push of a button.
The Bio-Clean Filter ensures that harmful pathogens and mold get removed from your spa water so that grout and fungus are never a problem. Even better, it features a chemical-free special antibacterial agent within the filter's fabric to stop microbe growth.
The folding Hydro-Armor cover is lightweight, easy to open, and ensures your beautiful acrylic shell is shielded from the elements.
Hydrotherapy
Built just for her, the her-seat is positioned upright to give proper support to a women's physique and is ergonomically positioned to ensure a women will always have her head above water. Reclined to accommodate a man's taller height, the his-seat gives excellent comfort and torso support.
20 stainless Steel Massage therapy jets offer a unique hydrotherapy experience in each seat.
Ambience
Underwater multi color LED lighting fills your spa with a brilliant display of color. Adjustable settings allow you to alternate a selection of colors for a visually stimulating experience.
Enjoy the incredible audio quality that comes with the 2-speaker Bluetooth Freedom Sound System. Music has never sounded better.
Pro versus con
Pro
Plug and play hot tub
Heavy-duty titanium heater
20 stainless steel jets
Ergonomical shape for both him and her
Powerful 2.0 BHP pump
Programmable LED lighting
Bio-clean filter system
Con
Good deal, but not cheap
Not suited for families
---
posted by Steven L. March 26, 2019 September 11, 2023